Welcome message from the Head of School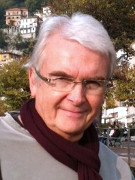 On behalf of the School of Physics and Astronomy I would like to warmly welcome you to Queen Mary University of London and to the School.
This is an excellent time to be taking a Physics degree here - the School is in the process of a major expansion, with many outstanding new staff members appointed in the past few years, and a major refurbishment of our building completed in 2014. There is increased demand for places in the School - our undergraduate intake has been steadily rising, at a raised tariff level and our postgraduate numbers are also at record levels.
New teaching laboratories were opened in 2010 and a major refurbishment of the building  has modernized all student teaching rooms, common areas and office areas. Our academic staff are active researchers whose work informs their teaching, and they are each members of one of our four dedicated research centres, in the areas of particle physics, theoretical physics, astronomy and condensed matter physics.
We have an active student society, operate a peer assistance study scheme and run a number of initiatives to work with students in providing advice, work experience and skills development for their future careers. Our professional and technical staff will assist you in diverse roles in teaching, project and research work and student support and our postgraduate students will work to assist you in practical and exercise classes.
We provide a wide range of academic and other support, from the senior tutor, academic advisers, and module organisers to our full-time student support administrator, and we encourage you to seek advice or help at any time. We are sure that you will enjoy your time at Queen Mary and take advantage of the many opportunities that you will have to develop intellectually and personally. We look forward to seeing your success in the coming years,
Prof David Arrowsmith
Head of the School of Physics and Astronomy
A Brief History of the School and College
Queen Mary
Queen Mary has its roots in four historic colleges: Queen Mary College, Westfield College, St Bartholomew's Hospital Medical College and the London Hospital Medical College. The Mile End campus is historically the home of Queen Mary College, which began life in 1887 as the People's Palace, a philanthropic endeavour to provide east Londoners with education and social activities. It was admitted to the University of London in 1915 as the East London College. In 1934 the College achieved its Charter of Incorporate as Queen Mary College, named after Queen Mary of Teck, wife of George V. Westfield College was founded in 1882 as a pioneering college for the higher education of women, and was granted its Royal Charter in 1932. In 1989 Queen Mary College and Westfield College merged to form Queen Mary and Westfield College.
In 1995, Queen Mary and Westfield merged with two distinguished medical colleges, St Bartholomew's Hospital Medical College, established in 1843, and the London Hospital Medical College, England's first medical school, founded in 1785. Pooling strengths, expertise and resources, this brought clinical medical teaching to Queen Mary for the first time.
In 2000 the College changed its working name to Queen Mary, University of London. Queen Mary, University of London is now one of London and the UK's leading research- focused higher education institutions. Amongst the largest of the colleges of the University of London with 16,000 students.
In 2012 Queen Mary joined the prestigious Russell Group of top UK universities.
Queen Mary's 3,000 staff teach and research across a wide range of subjects in three sectors: Humanities and Social Sciences, Medicine and Dentistry, and Science and Engineering.
The School of Physics and Astronomy
Physics has been taught at Queen Mary since 1888 (as part of the People's Palace). The first student to be awarded a BSc in Physics graduated in 1908 with a first class honours degree. Up until 1960 the Physics department was based in the Queens' Building and in 1960 a bespoke new building opened for the growing discipline.
A full history of the School can be found online at http://ph.qmul.ac.uk/alumni/history-and-archives.
On 1st August 2011 the School of Physics merged with the Astronomy Unit creating the new School of Physics and Astronomy. Research in the School is organised around four research groups - the  Astronomy Unit, the Centre for Research in String Theory, the Centre for Condensed Matter and Material Physics and the Particle Physics Research Centre. We also have undergraduate teaching programmes which align with these.
The School currently has 50 academic staff, 40 research and technical staff, and 15 research and academic support staff. We have over 400 undergraduate students, 30 Master's and 90 PhD students.