The School of Physics and Astronomy is very pleased to support Project Juno, an Institute of Physics initiative that recognises and rewards departments that can demonstrate they have taken action to address the under-representation of women in university physics and to encourage better practice for both women and men. The School was awarded Juno Champion, the highest level of award in this scheme, in June 2015, having previously attained Practitioner status in February 2012.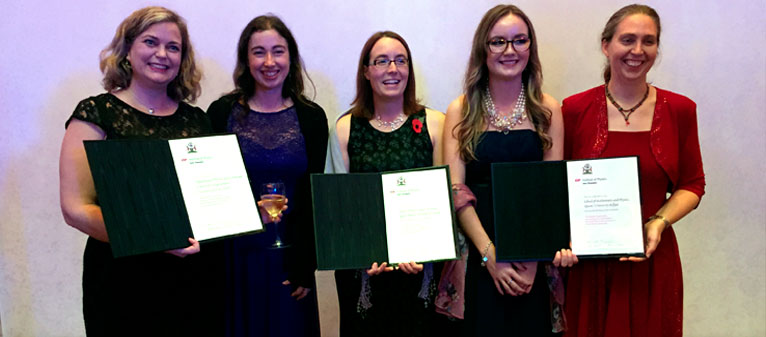 Dr Jeanne Wilson and Dr Marcella Bona collect QMUL's JUNO Champion Award
We collect and monitor gender disagregated data on many aspects of school life, from undergraduate recruitment to seminar speakers and act accordingly on our findings in an effort to create an equitable working culture in which all students and staff, men and women, can all achieve their full potential. 
The JUNO Committee, which meets termly, comprises members from all 4 sub-groups within the school and all career stages from PhD student to the Head of School.
JUNO Committee members
You Said - We Did
Events
SPA Bookshelf
News gender-related studies
Publications of bias studies
Policy and Procedure Documentation
Diversity Links
Diversity Good Practice
Calendar
Minutes (through Indico)