Thinking again about where you'd like to study next year?
Join admissions staff and current students for a laid-back event designed to give you a second chance to find out about life as a student at the School of Physics and Astronomy at QMUL.
1.00pm - 3.00pm Thursday 14th July
For event location, map and booking details visit the event page.
Session content
Top tips for preparing for life as a physics student

Information and advice from our Director of Admissions, including tips for clearing and adjustment

Chat to current students about study and social life

Take a tour of our campus and facilities
As part of a university-wide event, we're running demonstrations, talks, tours, activities and taster lectures over two days designed to give you an insight into life as a physics student. We'll also be on hand to answer questions about applications, study options and talk about what a physics degree from QMUL can do for your future!
Undergraduate Open day: 8th October
The open day really is the best way to find out more about the study at the School of Physics and Astronomy at QMUL. Don't forget to register online for updates on the schedule as it develops!

On 9th May 2016, we live streamed the transit of Mercury from our observatory. You can check the recording of this astronomical event here, but below is a screenshot during the transit.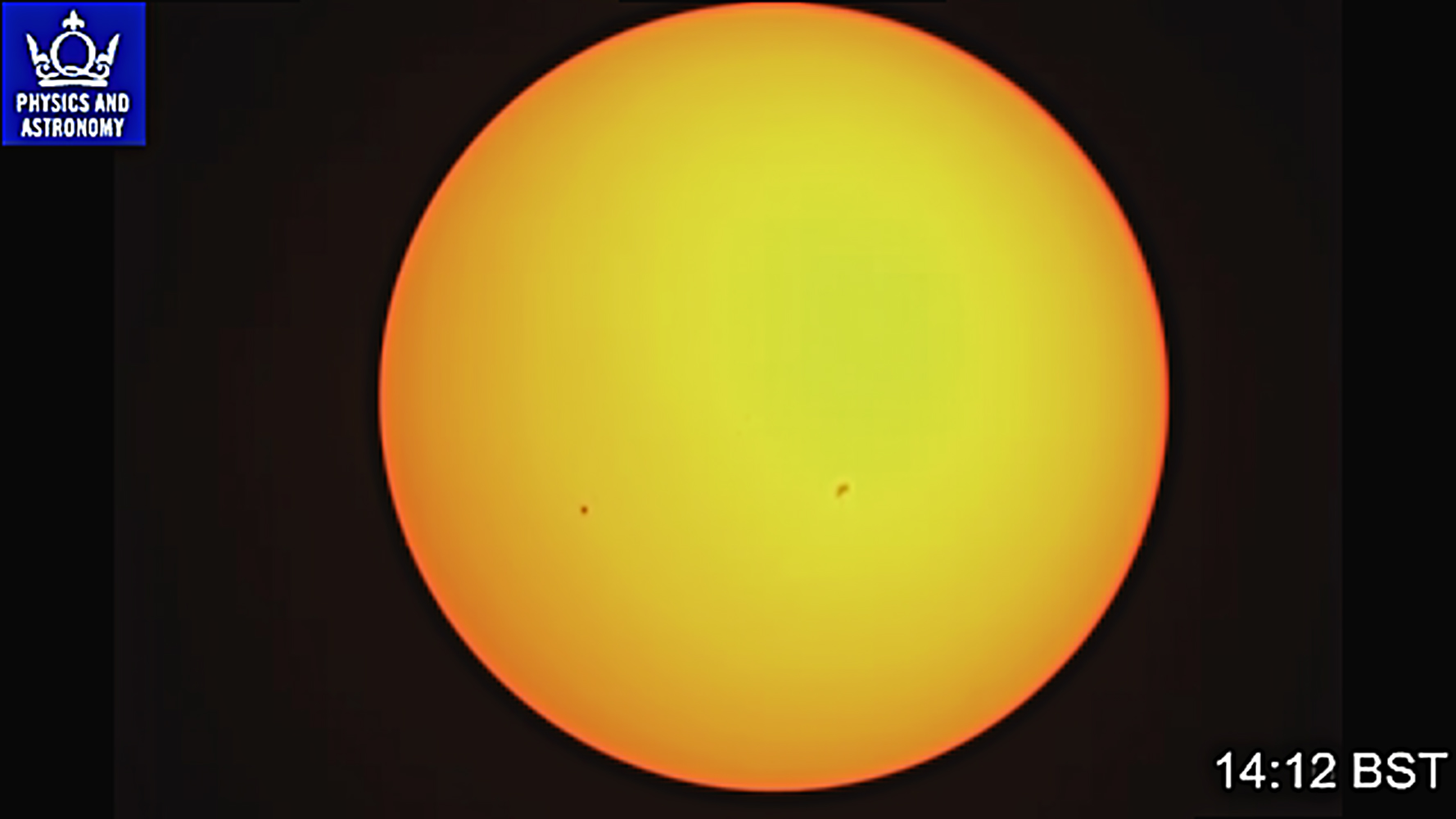 Mercury can be seen as the small circular dot on the left side of the sun (a collection of sunspots can be seen just to the right of the middle).

The School of Physics and Astronomy is seeking to award a summer internship offering experience in web programming and particle physics. The Intern will contribute to the development of a prototype web app for enhancing science teaching delivery in secondary schools.
The School of Physics and Astronomy has a highly active outreach and recruitment team, delivering a wide range of activities to widen participation in higher education, enhance science education and strengthen the relationship between Queen Mary and the wider community.
For more information, please visit our HR website.

The School of Physics and Astronomy student blog articlephysics.org has picked up momentum since its launch in February. The blog now features several stories by different student bloggers covering everything from MSc project choice and revision strategies to gender equality in physics and life as a student in London.
The purpose of the blog is to give prospective students an insight into life in the School of Physics and Astronomy as well as giving current students the chance to create original content on subjects that interest them.

Professor Gabriele Travaglini has been awarded one of the 2016 Friedrich Wilhelm Bessel Research Awards of the Alexander von Humboldt Foundation. The Bessel Award is given each year to researchers from all disciplines in recognition of their outstanding research record and exceptional future promise. The prize will also allow him to spend a period of one year at Humboldt University Berlin, where he will work in the group of Professor Jan Plefka on Scattering Amplitudes - the fundamental quantities at the heart of quantum theory, which are central to our understanding of the fundamental interactions of Nature.

On 21 March 2016, the Outreach team at the School of Physics and Astronomy ran the first annual Cosmic Con 2016. This student conference featured talks and posters by 15-18 year old students from 5 local schools and sixth forms, who presented the results of their six-month long independent research projects in collaboration with Queen Mary University of London.

Hear Simon and Alex, two of our current master's level students, talk about their work at the School of Physics and Astronomy. Find out about facilities, projects, academic supervision and taught modules as well as the inspiring nature of higher level physics and astronomy. 
Pages