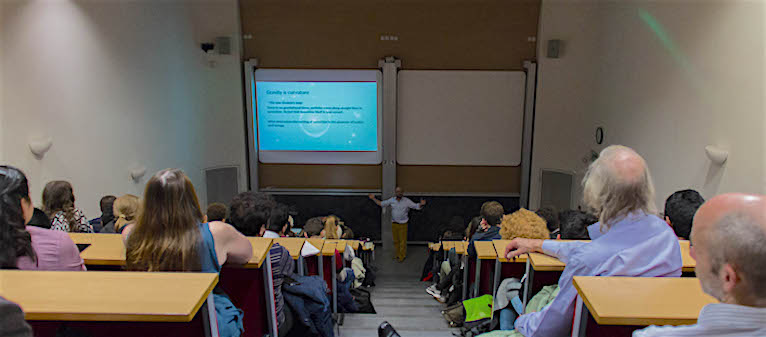 The School of Physics and Astronomy arranges regular public talks about the research carried out here that are aimed at a non-specialist audience. Staff and students also take part in a variety of other public events from time to time. The schedule of forthcoming talks and events is shown below. Keep an eye out for further details as they appear here or sign up to our public mailing list.
Public talks and events in 2017
A Pint of Science, 15 and 16 May 7:30 to 10:00 pm 
Venue: The Water Poet, 9-11 Folgate Street, London E1 6BX
Members of the School of Physics and Astronomy will be taking part in this year's Pint of Science events. 
From Nano to Macro:  on Monday 15 May, Dr Andrei Sapelkin and Dr Anthony Phillips will talk about quantum dots and functional materials.
Across the Universe:  on Tuesday 16 May, Dr Karim Malik and PhD student Jessie Durk will talk about cosmic inflation and whether matter matters.  THIS EVENT IS NOW SOLD OUT
Wednesday 24 May 5:30 – 8:00 pm
Venue: Peston Lecture Theatre, the Graduate Centre, QMUL Mile End Campus
Garriott Lecture – Worlds of Twilight: Proxima b and Life Under a Red Sun
Proxima Centauri is a red dwarf star – the closest star to the Sun. A team of astronomers led by QMUL's Dr Guillem Anglada-Escude recently discovered a planet with some Earth-like qualities in orbit around it.
Join us for a panel discussion headed by Guillem Anglada-Escude and including science fiction writer Stephen Baxter (author of the sci-fi novel Proxima) and Dr Louisa Preston (UK Space Agency Aurora Research Fellow, and an astrobiologist, planetary geologist and author). The discussion will explore what we know, what we will learn in the next decade, how we imagine these worlds to be and how, someday, we might be visit some of them. Admission free - please register here to reserve a place.
Thursday 15 June 7:00 pm
Venue:  Physics Lecture Theatre, G O Jones building, Queen Mary University Mile End campus
Our home, the Milky Way Galaxy
The School of Physics and Astronomy is very pleased to welcome Queen Mary alumna Prof. Rosemary Wyse of the Department of Physics and Astronomy at Johns Hopkins University in the United States. Prof. Wyse has research interests in galaxy formation, composition and evolution and she will be in London to receive the 2016 Brouwer Award of the American Astronomical Society's Division on Dynamical Astronomy, which is holding a meeting in QMUL between 11 and 15 June.