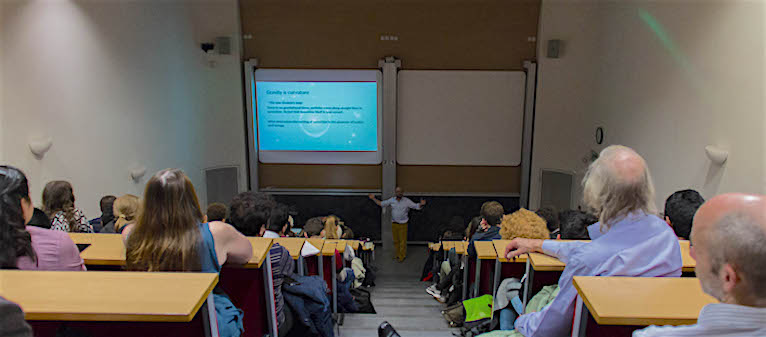 The School of Physics and Astronomy arranges regular public talks about the research carried out here that are aimed at a non-specialist audience. Staff and students also take part in a variety of other public events from time to time. The schedule of forthcoming talks and events is shown below. Keep an eye out for further details as they appear here or sign up to our public mailing list.
Public talks and events in 2017
Sunday 11 June and Sunday 18 June at 2:00pm
Venue: 54 Church Hill, London E17
E17 Art Trail 2017
The School of Physics and Astronomy (SPA) is delighted to be taking part in this year's E17 Art Trail. Running between 3 and 18 June, the Art Trail 2017 takes its inspiration from the theme of "Science Technology Engineering Art and Mathematics". SPA researchers have partnered with ceramicist Amanda Doidge to give presentations about the search for the building blocks of life in space alongside an exhibition of Amanda's work.
Dr Izaskun Jimenez-Serra will give the presentation, which also includes a hands-on demonstration of how molecules are put together (suitable for children), on Sunday 11 June, and Dr David Quénard will be the presenter on Sunday 18 June. Both events take place at 54 Church Hill E17 and start at 2pm.
Thursday 15 June 7:00 pm
Venue:  Physics Lecture Theatre, G O Jones building, Queen Mary University Mile End campus
Our home, the Milky Way Galaxy
The School of Physics and Astronomy is very pleased to welcome Queen Mary alumna Prof. Rosemary Wyse of the Department of Physics and Astronomy at Johns Hopkins University in the United States. Prof. Wyse has research interests in galaxy formation, composition and evolution and she will be in London to receive the 2016 Brouwer Award of the American Astronomical Society's Division on Dynamical Astronomy, which is holding a meeting in QMUL between 11 and 15 June.