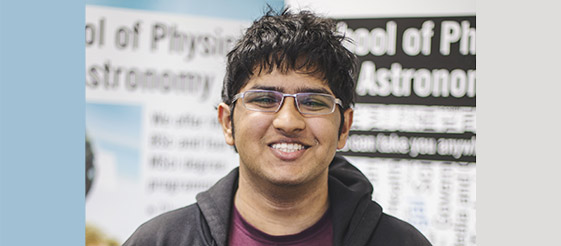 2nd year Vishnu Vejayan gives us his perspective on life as an international student in the School of Physics and Astronomy.
Why did you choose to study physics?
Aside from the constant interest I've had in the subject for years, I think the range of job opportunities was definitely a big factor in deciding to study physics. Being someone with quite a few interests, mostly related to physics or something with a similar analytical nature, I felt that studying physics would allow me to take my time and decide what I wanted to pursue as a career.  Although it'll probably require a bit of extra work out of classes, I felt that studying physics would give me a broader range of opportunities once I had graduated. 
What interested you about studying in London?
To be honest, I was quite conflicted about living in a big city.  I don't like the idea of being constantly in noisy crowded areas. However, being in London also meant that I'd always be able to find something to do during my free time. Fortunately, living away from central London allowed me to live in quiet while still being just a tube ride away from anything I felt like doing.
What do you like most about life at QMUL?
Probably the School of Physics and Astronomy in general. As an international student, all I had known about QMUL and its physics department before I arrived were things I had read, so it was quite nerve-wracking. The department does a great job of making everyone feel comfortable being here, and seem to take feedback from the students quite seriously.
Do you have any plans for the future?
As of now, I am just trying to build up my skill set as I don't have any concrete plans for the future. Though, I would say that my ideal future right now would be one where I am involved in physics research that has a big focus on computational physics while doing some freelance scientific journalism by the side. 
Thanks Vishnu!
Published on:
Friday, February 19, 2016