Study for Sforza Monument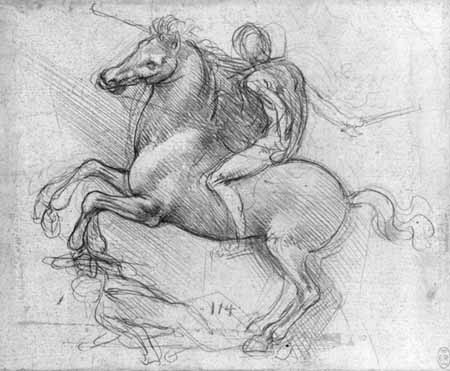 Duke Ludovico Sforza was a patron of Leonardo's, and one of his commissions was to sculpt an equestrian monument to Francesco Sforza, the duke's father. At first Leonardo was commissioned to make only a life-sized statue, already a difficult task, but his employer then decided that the tribute to his father should be four times larger.
This is one of a few surviving studies that record Leonardo's first idea for the Sforza monument: A horse rearing above a fallen enemy, but with both the horse and the rider in twisting and seemingly spontaneous poses. This approach extends the late Medieval and Roman concept of the hero in the midst of battle.
The four times life-size statue would have been twenty-three feet high and weighed nearly 80 tons. For years Leonardo studied the movement of horses, making countless sketches, and devised new casting techniques. Leonardo worked on this project for seventeen years and a full-scale, 22-foot high, clay model of the equestrian monument was exhibited at the time of the Bianca Maria Sforza and Emperor Maximilian's wedding in 1493. In 1499 the French invaded Milan and deposed the Duke, the French soldiers destroying the clay model by using it for target practice.