1882
"To create an institution, in which, whether in Science, Art, or Literature, any student may be able to follow up his education to the highest point by means of Technical and Trade Schools, Reading Rooms and Libraries - in fact, that the Palace may become the University for East London ..."
 
June - First meeting at the Mansion House in support of the project to create a Peoples Palace using trust funds set up by JT Barber-Beaumont
1884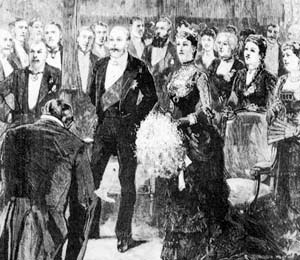 July- a soirée at the Bethnal Green Museum to publicise the intentions of the Trustees was attended by the Prince and Princess of Wales
1885
June - Meeting at the Mansion House to set up a public appeal for funds, attended by the Prince of Wales, the Lord Mayor, the Archbishop of Canterbury, the Chief Rabbi, the President of the Royal Society, the Master of the Drapers Company, etc. £60,000 was raised at the meeting to purchase the Mile End site of Bancroft's Hospital.
1886
Queen Victoria became Patron of the Peoples Palace.
1886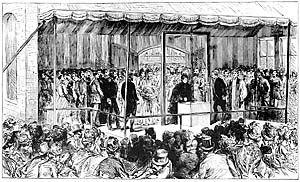 May - Queen Victoria laid the foundation stone of the Peoples Palace Technical Schools
1888
 
October - The Peoples Palace Technical Schools opened by Mr JH Daniel, Master of the Drapers Company.  

The Schools comprised a Day School for full time secondary education and both Evening and Day Classes for students aged above 15 years of age. These latter both taught trade skills such as carpentry, dressmaking and plumbing in addition to courses leading to London University degrees.

Physics was taught as part of the London University Intermediate and Final Science BSc Courses. The Intermediate Course devoted the following time weekly:

Pure and Mixed Mathematics (6 hours)
Experimental Physics (6 hours)
Chemistry (10 hours)
Biology (4 hours)

Fees for the full course were six guineas [£6.30] per year. For the Final examination students chose three of the above four subjects.
Physics and astronomy were also taught on non-university courses leading to Board of Education qualifications.
1896
Professor RA Lehfeldt appointed Head of Department

 

ROBERT ALFRED LEHFELDT
7 May 1868 - 11 September 1927

Lehfeldt was born in Birmingham, England. He left school before the age of sixteen in order to study by himself with a view to a university career. He passed the Cambridge Local Examinations with honours and with distinction in mathematics, and in 1887 he entered St. John's College, Cambridge where he graduated as Bachelor of Arts. In 1890 he became Demonstrator at Frith College Sheffield, and in 1896 he was appointed Professor of Physics at East London College, where he remained for ten years during which time he received the degree of PhD from London University. In 1895 he was elected a life fellow of the Physical Society and he contributed several papers to its Proceedings. In 1906 he left England to accept the Chair of Physics at the newly established Transvaal University College in Johannesburg, later South African School of Mines and Technology. In 1909 he became a Fellow of the Royal Society of South Africa. Lehfeldt had always been a brilliant mathematician and his special interest was the application of mathematical methods to economic and statistical problems. A few years after his arrival in South Africa, he began to contribute a series of articles to the Economic Journal and to the Journal of the Royal Statistical Society. In 1916 he decided to devote himself entirely to economics and he relinquished his post in physics when he was appointed to the new Chair of Economics and Statistics at the South African School of Mines and Technology, soon (in 1922) to become the University of the Witwatersrand. In 1917 Lehfeldt was appointed a member of the Statistical Council of South Africa. He was also a Vice-president of the Economic Society of South Africa. His other interests included love for music, literature and art. For many years he was musical and dramatic critic for a number of South African newspapers. He has written several books on physics and economics. Lehfeldt was married to Violet Douglas Renwick, daughter of James Renwick, shipowner. He died shortly before he was due to retire as a result of electrocution from a heater in the bathroom of his house.

University of Witwatersrand Archive Office

The School changed its name to East London Technical College.
1898
Publication of Lectures On Theoretical and Physical Chemistry (in 3 volumes) by Robert Lehfeldt with J.H. Van Hoff
1900
Publication of A Text Book of Physical Chemistry by Robert Lehfeldt
1904
Publication of Electro-Chemistry by Robert Lehfeldt
1905
The College changed its name to East London College to reflect the change to 'almost entirely preparing students for university examinations'.
1906
Professor CH Lees, FRS, appointed Head of Department.

CHARLES HERBERT LEES
28 July 1864 - 25 September 1952
 

Lees was educated at Highfield Academy, Oldham and attended evening classes in the Oldham School of Science and Art. In 1882 he was awarded a Platt Local Exhibition tenable at Owens College, Manchester [later the University of Manchester]. His career as a student gives one the impression of a triumphal progress of examination successes and academic distinctions. During the session of 1886-87 he read higher pure mathematics with Professor Horace Lamb and Maxwell's electromagnetic theory with Professor Arthur Schuster and was occupied with research on electrolysis. Lees went to Strasburg in 1887 to study physics and mathematics and there began the long sequence of investigations of thermal conductivity for which he is best known, mainly concerned with the thermal conductivity of crystals. In 1888 he was elected to a Bishop Berkeley Fellowship at Manchester, and gave a course of lectures on thermodynamics to senior students. In 1891 he was appointed Senior Assistant Lecturer and Demonstrator in Physics in the Owens College. In 1895 the D.Sc. degree was conferred on him. In 1900 he was promoted to be Lecturer in Physics and Assistant Director of the Physical Laboratories in the University of Manchester. He was Recorder of Section A of the British Association, Honorary Secretary of the Literary and Philosophical Society of Manchester and Secretary of the Faculty of Science of the University. In March 1906 Lees was appointed Professor of Physics at East London College and in the same year was elected into the Fellowship of the Royal Society. In 1912 he became Professor of Physics in the University of London. From 1917 till 1930 he was Vice-Principal of the College and in the latter year became Professor Emeritus of Physics. In 1934 he was elected a Fellow of Queen Mary College. He was President of the Physical Society from 1918 till 1920. Lees is best known for his careful and valuable measurements of thermal conductivities, and especially for the well-known disk method. It was his great experience of such measurements that caused him to be made a member of the Engineering Committee of the Food Investigation Board. His interests were very wide; one of his papers deals with the free periods of a composite elastic column, etc., which was a product of the investigations he carried out at the Safety in Mines Research Stations in Sheffield. One of the earliest methods for determining the thermal conductivity of conductors was that of Forbes, in which one end of a bar was maintained at a higher temperature than the other. Angstrom modified this by causing the temperature of one end of the bar to vary periodically. This involved a Fourier expansion to express the temperature at points on the bar. Some of Lees's earlier measurements were carried out by this method, and he was thus led to two further things: the law of cooling, to which the Fourier expression is very sensitive, and the study of Fourier's series for its own sake. He published a paper on an extension of Fourier's mode of expansion in 1906, and some years later he noticed the connection between the method of least squares and the calculation of the coefficients in a Fourier series. Lees was a member of many committees and public bodies, especially education committees. He took these duties very seriously and one wonders how he managed to get through the enormous amount of work he did. He wrote two books on practical physics which went through many editions. A very religious man he was Deacon of Woodford Green Congregational Church, and Deacon and Vice-Chairman of Tonbridge Congregational Church, of which he became a Life Elder in 1944. He was a remarkable blend of a man of great practical capacity and a theoretician of very considerable mathematical attainments described as a man of rare integrity of character.

Taken from Obituary Notices of Fellows of The Royal Society.
W.M. Wilson

Professor Charles Lees elected to Fellowship of the Royal Society.
1907
The College received provisional recognition as a school of the University of London.
1908
Thomas Barratt became the first College student to gain a BSc degree in Physics. He was awarded First Class Honours.  

Thomas Barratt was a mature student, age 33 on entry, who taught physics at Wandsworth Technical Institute. At the completion of his BSc he continued at the College to do research on alpha-particle scattering. Barratt obtained his DSc (Physics) in 1915.
1910
His Majesty King George V became Patron of the College.
Ernest Marsden carried out work here on alpha scattering from 1910 to 1912.  

Working at Queen Mary as Thomas Barratt's supervisor, and in collaboration with Hans Geiger at Manchester, Marsden performed the historic experiments on the scattering of alpha particles that led Ernest Rutherford to deduce the existence of the atomic nucleus. More detail
1911
The Treasury first gave the College a share of the university funding grant. 1912
Thomas Barratt's research in alpha scattering led him to suggest that disintegration from a single substance might follow more than one path to the final stable product - a conclusion vital to the subsequent understanding of nuclear processes.
1915
July - the College was admitted as a full school of the University of London.
Thomas Barratt became the first physics student to obtain his DSc degree.